EXCURSIONS
Songnisan 2 days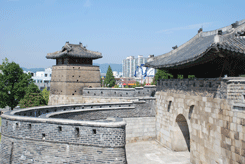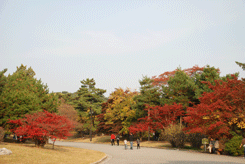 Tour Highlights
---
Oeammaeul Village
Songnisan National Park
Beopjusa Temple
Yeongneung Tomb
Hwaseong Fortress
---

Click on the days to access the program quick
| | | |
| --- | --- | --- |
| Days | Visits and Activities | Distance |
| Day 1 | Seoul - Asan - Songnisan | 200km |
| Day 2 | Songnisan - Yeoju - Suwon - Seoul | 290km |
Day 1 Seoul - Asan
- Songnisan (- - -) 200km
Your tour guide greets you in your hotel lobby and takes you on a countryside excusion. En route stop off at Oeammaeul Village to explore a traditional clan villages exuding old and rustic charm. The village entrance is marked by stone bridge, pine forest and totem poles. This village of more than 400 years of history has about 70 traditional houses, and is highlighted by 6km-long stonewall paths ringing the village and the amazing artificial water system. Soak in the rural ambience and peaceful atmosphere, while enjoying the thatched cottages and tile roof houses that represent typical village layout of central Korea.

Your journey continues to Songnisan national park, weaving through the picturesque countryside. En route, make a short stop at a 600-year-old pine tree shaped like an open umbrella. In recent years several branches were damaged by wind and snow, though what remains is still beautiful. Upon entering Beopjusa dating back to 553, you will certainly stand in awe before the enormous golden Buddha gazing down at the temple and a five-story wooden pagoda, the only one left in Korea. Check out a giant iron pot whose diameter is 2.7 meters that may well had been used to feed 3,000 priests in the early 12th century. A stone carved lantern supported by twin lions standing face to face is a rare example of the magnificent Silla sculptures. A stone water cistern is considered unique for beauty and design. Two stone pillars once held the temple banner pole. An excellent carved relief called Maaebul and worship halls also can be seen.

You cannot miss Four Buddhist Instrument Ceremony. The sounds of each instrument, Brahma bell, Dharma drum, wooden fish and cloud-shaped gong, have a function in saving beings of other realms. Hearing them reverberating through the universe, you will reflect upon the profound symbolism of the instruments. It is a great vow to save or enlighten the creatures in the universe including those on land, in the sea, in the air and in hell.

Day 2 Songnisan - Yeoju - Suwon - Seoul (B) 290km
Travel to Yeoju and visit UNESCO World Heritage Sites. Yeongneung is a tomb of royal couple of King Sejong who is widely regarded as the most enlightened king in Korean history. He promulgated Korean Alphabet and also invented such scientific devices as a rain gauge, a celestial globe, sundial, armillary sphere, water clock, promoted the development of classical court music, and improved metal type printing techniques. Many replicas of inventions that were commissioned by the king are displayed near the entrance to burial mound. Near the tomb and all around it are life-sized statues of warriors and horses, put here to protect the King. UNESCO bestowed the honor to the 40 Joseon Dynasty Royal Tombs including Yeongneung as World Heritage sites.

Tour also includes UNESCO World Heritage site of Hwaseong Fortress from the 18th century. Though it is relatively small in scale, it is well acknowledged as the best structure of its kind ever built in Korea. A 5.74km-long fortress enclosing both flatland and hilly terrain is parapeted with crenels and merlons and highlighted by four main gates and well over 50 structures including temporary palace where the king sought refuge during war and found rest during times of peace. A walk through the whole fortress could take several hours but it is well worth making a short walking tour to enjoy the splendor of the fortress, including the Korea's largest Janganmun Gate.