WINTER OLYMPICS
Pre-Olympics 3 days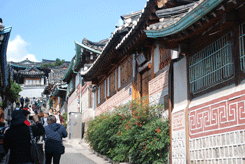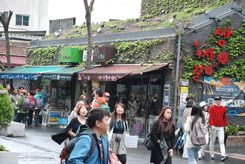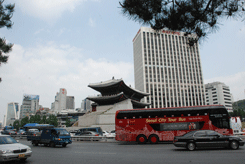 Click on the days to access the programs quick
| | | |
| --- | --- | --- |
| Days | Visits and Activities | Distance |
| Day 1 | Arrive Seoul | 60km |
| Day 2 | Seoul | |
| Day 3 | Seoul - Pyeongchang | 220km |
Day 1 Arrive Seoul (- - -) 60km
Touching down at Incheon International Airport, and after arrival formalities, you are met and transferred to your hotel.

Day 2 Seoul (B)
Your exploration this morning begins with a driving tour of Seoul, featuring sites such as Seoul Plaza, City Hall, Cheonggye Square and pedestrian-friendly Gwanghwamun Plaza that is hemmed in on both sides by rushing traffic and office buildings. The plaza is lined on each side with 365m long streamlets, two centimeters deep and one meter across, the stone bed of the plaza's east side waterway engraved with important events in chronological order from 1392 to 2008.

Standing high on a stone pillar is a statue of Yi Sunsin who had engaged in twenty-three naval battles and emerged victorious in all of them during the Hideyoshi invasion (1592-1598). King Sejong who propagated the Korean alphabet in the 15th century is also honored with prominent statue. On August 16, 2014, Pope Francis celebrated Mass in this plaza to beatify 124 Korean martyrs. Near the southwest corner of the plaza is Korea's Kilometer Zero, marking the distances to 64 cities around the world, including Seoul's antipode, Montevideo, Uruguay, 19,606km.

Step back in time to when life was gracefully slow and discover Gyeongbokgung palace, a particularly charming spot that represents a colorful and turbulent side of the capital's 500-year history. On entering the gate, you will step back in time to Joseon Dynasty (1392-1910). Depending on timing, you may witness the Royal Guard Changing Ceremony featuring parade, password verification, duty shift and patrolling the gate. Accompanied by a court band with its colorful costumes and royal flags, the ceremony is performed daily basis at 10:00 and 14:00 except Tuesdays, although it is cancelled in case of rain or extremely hot or cold weather.

The throne hall stands majestically on top of a two-tiered stone platform. At the back of this hall is a group of offices. Displayed in front of the King's official quarters is Angbuilgu. Check out this interesting sundial and learn how to tell time and 24 periods of seasonal change from the winter solstice to the summer solstice.

Sitting on the island in the rectangular lake is Gyeonghoeru. Supported by 24 each square and cylindrical massive stone pillars representing the idea of Yin and Yang, this magnificent pavilion was used for many purposes ranging from receptions to national examinations. Gangnyeongjeon is the king's sleeping and living quarters while Gyotaejeon is the queen's domain containing a number of halls. The noted feature of these main buildings is an absence of a top roof ridge. You cannot miss Amisan Garden landscaped with four hexagonal chimneys in orange bricks which are seldom noticed by the hurried visitors. Jagyeongjeon is the queen dowager's residence. Although less colorful, it is worth noting the wall of Jagyeongjeon, adorned with floral designs and the chimneys with ten longevity symbols.

Hyangwonjeong features a small pond with a manmade islet that supports a beautiful two-story pavilion. Behind this serene garden is Geoncheonggung, where the king and queen could relax in peace and quiet. It was here that the first electric lights in the country were installed in 1887 after 8 years of Thomas Edison's invention and a tragic chapter in Korea's history was recorded when empress Myeongseong was assassinated by the sword-bearing Japanese assassins in the early morning of 8 October 1895, allegedly under orders from Miura Goro.

Your visit to the National Folk Museum of Korea will familiarize you with wealthy culture of this friendly and picturesque nation. It is an excellent facility to illustrate the history of traditional life of the Korean people from the prehistoric age to the Joseon dynasty. The permanent exhibition features life and work, costumes and ornaments, handicrafts and technology, educations, living quarters, dietary life, oriental medicine, performing arts and games, beliefs and rituals, and socio cultural life.

Jogyesa is the head temple of Jogyejong the principal sect of Korean Buddhism, emphasizing the Zen orthodox, meditation tradition and the purity of monastic celibacy. The Main Worship Hall holds triad Buddhas, Sakyamuni, Amitabha and Bhaisajyaraja. The figure in the center is Sakyamuni Buddha who has overcome greed, hatred and delusion. While here it is worth noting the 500 year old lacebark pine and 400 year old locust tree that still grace the property.

Insadong, at one time the center of traditional Korean art and antiques, features a mixture of historical and modern atmosphere representing the cultural glimpse of the nation. Clustered along the main street and alleys are lined with street vendors, wooden tea houses, restaurants and numerous galleries and shops dealing in antiques, oriental art supplies, and modern Korean art of all types and styles. Soak in the paintings, upscale artworks, antiques and potteries while you can. Get lucky and you just might meet the artist themselves. It can be plenty of fun walking on the main street, but you venture into the hidden alleys that do spring some unexpected surprises. While here, you may want to buy some souvenirs or simply wander and browse at leisure admiring cultural ambience.

Enjoy a brief visit to Gwangjang market. It is one of few markets retaining traditional Korean atmosphere. Established in 1905, the market today has 5,000 independent shops. On the market's ground level, the floor space is dominated by scores of small snack stalls selling rustic delicacies and cheap treats. Clouds of smoke billow out from the boiling pans, diverse types of pancakes sizzle on hot iron grills and the smell from the eateries filling the air. The roadside vendors hawking everything from food, fruits, vegetables to seafood and an entire upper level dedicated to high quality silk, satin, and linen. Try out some sorts of Korean snacks and see a side of regular Seoul life.

Drive past Cheonggyecheon Stream. After the Korean War (1950-1953), more people migrated into Seoul to make their living and settled down along the stream in shabby makeshift houses. The accompanying trash and waste, and deteriorating conditions resulted in an eyesore for the city. The stream was covered with layers of concrete in the mid 1950s and roadway until the massive urban renewal project freed it in 2005. Today, a 5.8km creek tumbles gently through downtown Seoul, providing a much needed source of peace and relaxation for the citizens of this fast-paced city.

Day 3 Seoul - Pyeongchang (B) 220km
With leisurely time to pack, tranasfer to your hotel of your choice in Pyeongchang.