Seat In Coach
Gyeongju 2 days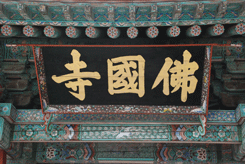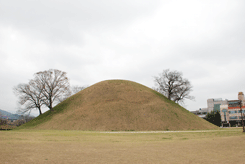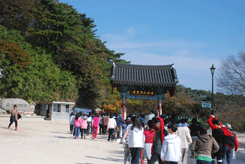 Tour Highlights
---
Yangdongmaeul Village
Gyeongju National Museum
Tumuli Park
Cheomseongdae Astronomical Observatory
Donggun Palace and Wolji Pond
Seokguram Grotto
Bulguksa Temple
---

We book this tour through subcontracted out to other tour companies. Therefore the tour quality, conditions and prices by their nature may vary company to company.

Today, you have two options to choose from.
One is to have a private transfer to the tour departure point currently Lotte hotel Seoul in downtown and the other is to make your own way to the hotel.
Then on return from the tour, the same way back to your hotel either by private transfer or at own. The private transfer option is subject to an additional charge.

Day 1 Seoul - Gyeongju (- - -) 430km
You will board a tour bus with other tourists and enjoy a pleasant two hours journey on a speed train to Gyeongju, an ancient capital of the Silla dynasty (BC57-AD935). As leisurely make your way to Gyeongju, you will see Korea's fertile farmland, glistening brooks, heavily sheltered ginseng farms, apple plantations and lovely rice paddies that together forming a patchwork of colors and ever-changing textures of the rural Korean life. Today, you are treated to one of the ten historical cities in the world. Temple sites with weathered stone pagodas, royal tombs, Buddhist bas-reliefs, and fortress ruins are scattered throughout this ancient city.

Your tour takes you to the UNESCO World Heritage site of Yangdongmaeul, a delightful journey to the traditional clan village which embraces simple, unadorned natural beauty. There are some steep hills to climb but also easier streets. Over 150 homes as well as two shrines are in perfect harmony with natural topography, presenting different angles where walls ascend a hill interspersed with tiled roof houses or thatched buildings.

Visit Gyeongju National Museum for a great insight into Silla culture and history. The first thing that you will notice is The Bell of King Seongdeok, the largest extant bell in Korea. You must certainly stand in awe before the bell from the 8th century with such artistic beauty of design. The bell is distinguished not only for its outstanding beauty but also for its long reverberating sound, the incredibly precise casting technique, in addition to the sad legend surrounding it. On entering the museum, you will marvel at the priceless archaeological and historical artifacts including splendid gold crowns, earrings, belts, ornaments, glassware, potteries, and clay figures as well as a royal barge.

Continue your historic discovery by exploring Donggung palace and Wolji pond, a pleasure garden built to commemorate the victory of Silla. A short walking tour leads you to the ruins of Banwolseong fortress, the world's oldest existing astronomical observatory, Cheomseongdae and finally Tumuli Park that encompasses 23 huge burial mounds. You can go inside Cheonmachong and see how the tombs were made and replicas of the treasures excavated in 1973.

Day 2 Gyeongju - Seoul (B) 360km
You will explore the delights of UNESCO World Heritage Site, Seokguram grotto. It is the home of the serene stone Buddha of the eighth century. Inside, a white statue of a seated Buddha in a sublime state of enlightenment, is surrounded by 37 relief figures of Bodhisattvas, disciples, devas, and guardian kings. The grotto represents the magnificent harmony of religion, science and the arts of Buddhism, symbolizing the pure land in which Buddha resides.

A short ride leads you to another UNESCO World Heritage Site, Bulguksa temple, where you will witness the impressive gates, symbolic bridges leading up to the world of Buddha, graceful architectures, Three-storied Seokgatap and highly ornate Dabotap blending well into the architectural harmony. At Gwaneumjeon hall, check out the image of the Avalokitesvara who is referred to as the Bodhisattva of Compassion and has a thousand hands, and eyes in each so as to reach out to those in need of help. You will see a gilded statue of Vairocana with the gesture of the first wisdom, Sakyamuni Buddha along with sixteen figures of Buddha's disciples sitting in deep meditation, and a gilt-bronze Amitabha Buddha who is the ruler of the Western Paradise Sukhavati. The architectural design of Bulguksa is one of constrained dignity, peace, and harmony and the temple still remains one of the most remarkable achievements of the ancient Far East.
After exploring Gyeongju, return on a speed train to Seoul, and the tour service ends on arrival at Lotte hotel Seoul.
---

Remarks
The tour is subject to operation with minimum four persons and will be conducted in English
Transfer by trains and tour by taxi or van
Pick up service not available
Tour starts and ends at Lotte hotel Seoul

Tour fare
450,000 Won (Approx. USD 450) per person
Single room supplement charge 50,000 Won (Approx. USD 50)

Payment
Full payment required at the time of booking

Cancellation Policy
Cancellation notice received one day prior to departure : 50%
No Show : 100%

Child discount
30% off for one child on two or more full paying persons signed up sharing a triple room