SPECIAL INTEREST
Trekking (B) 14 days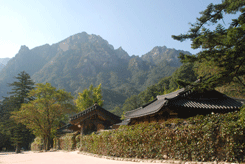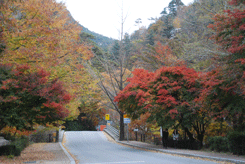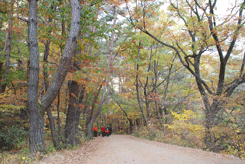 Tour Highlights
---
Gyeongbokgung Palace
National Folk Museum of Korea
Insa-dong Antique Shop Street
Gwangjang Market
Beopjusa Temple
Haeinsa Temple
Hwaeomsa Temple
Nogodan Hiking
Nagan Fortress Village
Hyangilam Hermitage
Dolsan Park
Hamel Park
Yeosu Fish Market
Namhae Drive
Tongyeong Jungang Market
Lacquerware Museum
POW Camp
Yongdusan Park
Jagalchi Fish Market
UN Memorial Cemetery
Seokguram Grotto
Bulguksa Temple
Gyeongju National Museum
Cheomseongdae Astronomical Observatory
Tumuli Park
Donggung palace and Wolji pond
Hahoemaeul Village
Jebiwon Buddha
Andong Folk Museum
Ginseng Market
Sosuseowon Confucian Academy
Sobaeksan Hiking
Woljeongsa Temple
Seoraksan National Park
Geojin Fishing Village
Kim Ilsung Villa
Unification Observatory
---
Tour from May through October
Lunches and dinners paid locally
Light-weight hiking boots
Own water bottle
Day backpack for anything you may need up in the mountains
Tour facts and features

Accommodation

13 hotel nights in 2 and 4 star twin share accommodation
Single room avaialble at surcharge


Meals
12 breakfasts
Transport
All transportation by private vehicle
Guided
Services of an English speaking guide
Group size
Maximum 14
Age range
18+
Degrees of difficulty
Normal
Click on the days to access the programs quick
| | | |
| --- | --- | --- |
| Days | Visits and Activities | Distance |
| Day 1 | Arrive Seoul | 60km |
| Day 2 | Seoul | |
| Day 3 | Seoul - Songnisan | 180km |
| Day 4 | Songnisan - Gayasan - Gurye | 300km |
| Day 5 | Gurye - Nagan - Suncheon - Yeosu | 130km |
| Day 6 | Yeosu - Namhae - Tongyeong - Geoje - Busan | 260km |
| Day 7 | Busan - Gyeongju | 120km |
| Day 8 | Gyeongju | |
| Day 9 | Gyeongju - Andong | 220km |
| Day 10 | Andong - Punggi - Danyang - Cheongpung | 130km |
| Day 11 | Cheongpoung - Odaesan - Seoraksan | 250km |
| Day 12 | Seoraksan | |
| Day 13 | Seoraksan - Geojin - Hwajinpo - Goseong - Seoul | 310km |
| Day 14 | Departure | 60km |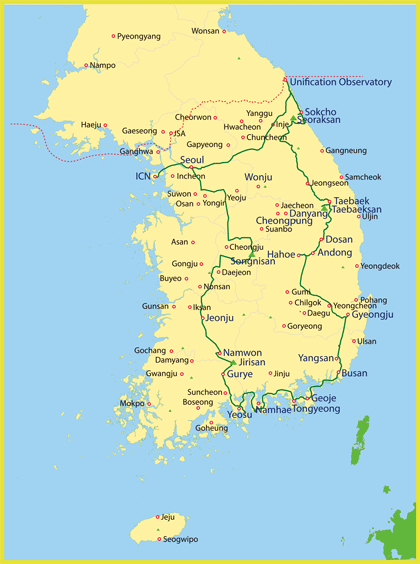 Day 1 Arrive Seoul (- - -)
60km
Touching down at Incheon International Airport places you in the heart of Korea. After you clear Passport and Customs control, your tour guide will greet you at the main passenger terminal and transport you to your hotel.

Day 2 Seoul (B)
Your exploration this morning begins with a driving tour of Seoul, featuring sites such as Seoul Plaza, City Hall, Cheonggye Square and pedestrian-friendly Gwanghwamun Plaza that is hemmed in on both sides by rushing traffic and office buildings. The plaza is lined on each side with 365m long streamlets, two centimeters deep and one meter across, the stone bed of the plaza's east side waterway engraved with important events in chronological order from 1392 to 2008.

Standing high on a stone pillar is a statue of Yi Sunsin who had engaged in twenty-three naval battles and emerged victorious in all of them during the Hideyoshi invasion (1592-1598). King Sejong who propagated the Korean alphabet in the 15th century is also honored with prominent statue. On August 16, 2014, Pope Francis celebrated Mass in this plaza to beatify 124 Korean martyrs. Near the southwest corner of the plaza is Korea's Kilometer Zero, marking the distances to 64 cities around the world, including Seoul's antipode, Montevideo, Uruguay, 19,606km.

Step back in time to when life was gracefully slow and discover Gyeongbokgung Palace, a particularly charming spot that represents a colorful and turbulent side of the capital's 500-year history. Depending on timing, you may witness the Royal Guard Changing Ceremony featuring parade, password verification, duty shift and patrolling the gate. Accompanied by a court band with its colorful costumes and royal flags, the ceremony is performed daily basis at 10:00 and 14:00 except Tuesdays, although it is cancelled in case of rain or extremely hot or cold weather.

Up from the gates is a spacious stone-paved courtyard that is fully enclosed by wooden cloisters, and at the center of which runs three footpaths through two rows of rank stones, indicating the positions of the officials with the highest rank being closer to the hall.

Standing majestically on top of a two-tiered stone platform that is lined with detailed balustrades is Geunjeongjeon Hall, where the king formally granted audiences to his officials, gave declarations of national importance, presided over large official functions, and greeted foreign envoys and ambassadors. Check out the royal throne and a large painting, depicting sun, moon, five peaks, streams and pine trees, which was the crucial signifier of the king. And up in the center of the ceiling, the bright golden dragons in bold relief indicate the presence of the king.

At the back of the throne hall is a group of court offices. Displayed in front of the King's official quarters is sundial, conceived in order to catch the shadow of the sun, which tells time and 24 periods of seasonal change from the winter solstice to the summer solstice.

Sitting on the island in the rectangular lake is Gyeonghoeru. Supported by 48 square and cylindrical massive stone pillars representing the idea of Yin and Yang, this magnificent pavilion was used for many purposes ranging from receptions to national examinations.

Gangnyeongjeon is the king's sleeping and living quarters while Gyotaejeon is the queen's domain containing a number of halls. The noted feature of these main buildings is an absence of a top roof ridge.

Amisan Garden, landscaped with four hexagonal chimneys in orange bricks, is seldom noticed by the hurried visitors. Jagyeongjeon is the queen dowager's residence. Although less colorful, it is worth noting the wall, adorned with floral designs and the chimneys with ten longevity symbols.

Hyangwonjeong features a small pond with a manmade islet that supports a beautiful two-story pavilion. Behind this serene garden is Geoncheonggung, where the king and queen could relax in peace and quiet. It was here that the first electric lights in the country were installed in 1887 after 8 years of Thomas Edison's invention and a tragic chapter in Korea's history was recorded when empress Myeongseong was assassinated by the sword-bearing Japanese assassins in the early morning of 8 October 1895, allegedly under orders from Miura Goro.

Your visit to the National Folk Museum of Korea will familiarize you with wealthy culture of this friendly and picturesque nation. It is an excellent facility to illustrate the history of traditional life of the Korean people from the prehistoric age to the Joseon dynasty. The permanent exhibition features life and work, costumes and ornaments, handicrafts and technology, educations, living quarters, dietary life, oriental medicine, performing arts and games, beliefs and rituals, and socio cultural life.

Squeeze in a stop at Jogyesa, the head temple of Jogyejong the principal sect of Korean Buddhism, emphasizing the Zen orthodox, meditation tradition and the purity of monastic celibacy. The temple does not give off the solemn and traditional air of the other temples located deep in the mountains, but when you enter the temple the frenzy of the city start disappearing. The Main Worship Hall holds triad Buddhas, Sakyamuni, Amitabha and Bhaisajyaraja. The figure in the center is Sakyamuni Buddha who has overcome greed, hatred and delusion. While here it is worth noting the 500 year old lacebark pine and 400 year old locust tree that still grace the property.

Insa-dong is known as the center of traditional Korean art and antiques. Clustered along the main street and alleys are numerous shops dealing in antiques, oriental art supplies, and modern Korean art of all types and styles. Many scour the main street, but the back alleys do spring some unexpected surprises. Here, you may want to buy some souvenirs or simply wander and browse at leisure admiring upscale art galleries, antique shops and cultural ambience.

Enjoy a brief visit to Gwangjang market. It is one of few markets retaining traditional Korean atmosphere. Established in 1905, the market today has 5,000 independent shops. On the market's ground level, the floor space is dominated by scores of small snack stalls selling rustic delicacies and cheap treats. Clouds of smoke billow out from the boiling pans, diverse types of pancakes sizzle on hot iron grills and the smell from the eateries filling the air. The roadside vendors hawking everything from food, fruits, vegetables to seafood and an entire upper level dedicated to high quality silk, satin, and linen. Try out some sorts of Korean snacks and see a side of regular Seoul life.

Near the market stands Dongdaemun which once served as the east gate of Seoul and a block away is DDP of a distinctively neofuturistic design. Characterized by the "powerful, curving forms of elongated structures", it ramains as a major urban development landmark of Seoul.

Day 3 Seoul - Songnisan (B) 180km
Travel to Songnisan national park, weaving through the picturesque countryside. En route, make a short stop at a 600-year-old pine tree shaped like an open umbrella. In recent years several branches were damaged by wind and snow, though what remains is still beautiful. Upon entering Beopjusa dating back to 553, you will certainly stand in awe before the enormous golden Buddha gazing down at the temple and a five-story wooden pagoda, the only one left in Korea. Check out a giant iron pot whose diameter is 2.7 meters that may well had been used to feed 3,000 priests in the early 12th century. A stone carved lantern supported by twin lions standing face to face is a rare example of the magnificent Silla sculptures. A stone water cistern is considered unique for beauty and design. Two stone pillars once held the temple banner pole. An excellent carved relief called Maaebul and worship halls also can be seen.

With time to visit, hiking is planned to Saesimjeong, flat and very easy trail of 3.4km. Thereafter the trail changes abruptly tough, narrow and rocky. There are iron guardrails, and trails are often challenging until you reach Munjangdae, where a huge flat rock magnificently occupies the top, providing a panoramic view of the park.

You cannot miss Four Buddhist Instrument Ceremony. The sounds of each instrument, Brahma bell, Dharma drum, wooden fish and cloud-shaped gong, have a function in saving beings of other realms. Hearing them reverberating through the universe, you will reflect upon the profound symbolism of the instruments. It is a great vow to save or enlighten the creatures in the universe including those on land, in the sea, in the air and in hell.

Day 4 Songnisan - Gayasan - Gurye (B) 300km
The tour continues through a scenic countryside to Gayasan national park. Before reaching to the temple, you may want to enjoy a pleasant hiking along the Sorigil trail under the woods set by the babbling stream. Overall 40 minutes relaxed walk leads you to a magnificent Haeinsa temple from the 9th century. Renounce each of 108 worldly desires of the mind as you climb 108 stairs. Within the Hall of Great Peace and Light, you will see Vairocana Buddha attended by Bodhisattvas and highly detailed and rather unusual wall paintings of the Buddha's life. And on the outside walls are a fair number of paintings portraying Buddhist stories. At the back of this hall is a group of four depositories or Janggyeong Panjeon from the 15th century. Housed within the depositories are 81,258 wood-blocks of Tripitaka Koreana, the world's oldest and a complete collection of the Buddhist sutras as well as an offering to the Buddha for national protection from the looming Mongol forces. The printing blocks are some 70cm wide, 24cm long and 2.8cm thick on the average. Each block has 23 lines of text, each with 14 characters, on each side. Each block thus has a total of 644 characters on both sides. Some 30 men carved the total of 52,382,960 characters in the clean and simple style. The characters are perfectly carved as if from the same hand. They were completed in 1251 after 16 years of work on Ganghwado and were transported here for safekeeping. The Mongol forces eventually took over the Goryeo Dynasty but the wooden blocks remain preserved today having survived other invasions, wars and fire. Even more amazing aspect is that neither birds built nests nor spiders make webs on these buildings. Check out two long depositories are designed to have natural ventilation by facing different size windows in the front and rear of the building. Tripitaka Koreana and Janggyeong Panjeon have been designated by UNESCO as a World Heritage for their artistic as well as religious value. In order to control the temperature and humidity within the depositories and protect the Janggyeon Panjeon and woodblocks from fire, full-time security guards and a 24-hour surveillance system are in place.

After visiting this sacred temple, the tour continues to the 6th century Hwaeomsa. The temple is dedicated to the vairocana Buddha, the cosmic head of the Hwaeom trinity. First, One-Pillar Gate standing at the lower part greets you and leads you up to the second and the third gate - from the secular world into the spiritual world. On the second level, there is the Bojeru, the Save All Beings Hall, beside which stands bell and drum tower and two magnificent 5-story stone pagodas from Silla period. Gakhwangjeon has a double storied roof, and houses seven figures on its altar. Sakyamuni Buddha sits in the middle attended by Amitabha and Prabhytaratna, as well as Avalokitesvara, Samantabhadra, Manjusri, and Ksitigarbha.

A magnificent stone lantern and an impressive stone pagoda supported by four fierce looking lions adorn this hall. On the hill behind Gakhwangjeon stands the most uniquely designed three-story stone pagoda supported by four lions each of which represents the four primary human emotions: love, sorrow, anger, and joy. Here, you will enjoy the intricacies of this masterpiece as there are numerous other designs etched onto the pagoda.

Day 5 Gurye - Nagan - Suncheon - Yeosu (B) 130km
Begin your day early to arrive in Yeosu. Today, overall 5 hours hiking through Hwaeomsa valley up to Nogodan of 10Km is planned. The trail is a mix of both easy and challenging. The trail maintains a relatively gentle slope until reaching the Jeopseondae where small cascades appear to your right and where it immediately turns arduous as it heads up a very steep incline for about 2.5km. You can scale rocky trails all the way up to Munaenggi. From here, another 40 minutes easy walk leads you to Nogodan (1,507m), holding a legend of old mother-in-law and her daughter-in-law and being the third highest peak of Jirisan after Banyabong (1,734m) and Cheonwangbong (1,915m). However, the valley is still popular among the true hikers. Or simply take a vehicle and make a 3km easy hiking to Nogodan.

Explore Nagan Fortress Village which has survived time and modernization. Entering the village, you could feel as if you have gone back to the centuries past. Surrounded by 1,410-meter long fortress which was built into a mud rampart in the 14th century to repel Japanese pirate raids, the village features nearly 90 traditional thatched roof houses presenting a peculiar townscape in harmony with the rectangular stone rampart. One unusual aspect of the town is that it was inhabited by a number of different clans rather than having one dominant one. Part of the fortress wall arches over the hill and you will today take in a great view of the entire village as well as the traditional housings, cultural landscape, time old customs and rituals representing the agricultural society of Korea while strolling around the small alleyways within the village.

Travel on to the southern tip of the Dolsan Island to visit Hyangilam hermitage from the 7th century. Prched on a gigantic pile of boulders on the eastern tip of Geumosan, the hermitage become more popular for the Korean folk-spirtual custom of praying for good-fortune or wisdom while watching the sunrise-especially on New Year's dawn regardless of Solar or Lunar. It is a bit long journey to get there! - but well-worthwhile.

Yeosu itself is nothing special to look at but the natural surroundings offer some spectacular sights along the jagged coastline. Dolsan Park in the city will offer views to remember. Yeosu is definitely a hidden gem when it comes to scenery. You may stop off at the Hamel Park. Dutch sailor Hamel and his seven crew members made their escape from Yeosu after 13 years and 28 days detention on September 4. 1666. Hamel Lighthouse stands tall in a small port and a bit further from the lighthouse is a statue of Hamel. At the fish market, you cannot but help notice the region's abundant resources in terms of seafood and fish resources.

Day 6 Yeosu - Namhae - Tongyeong - Geoje - Busan (B) 260km
Enjoy an exotic coastal drive to Busan, exploring natural wonders and traditional villages. The southern boundary of Korea is a sunken coastline which has created an irregular pattern of bays and inlets. The mountains are high and rugged while the scenery is picturesquely rural, offering a pastoral view.

At the southern tip of the island is one of Korea's most attractive beaches situated below the rugged spires of mountain. There are several little villages placed side by side on the rather steep slope of a mountain dropping into the sea. On Namhae island, you will hike 4 hours of 8km trail covering two neighboring peaks of Eungbongsan (472m) and Seolheulsan (481m). The hike starts at Seogu village and past rocky ridge of Eungbongsan and Seolheulsan, enjoying a spectacular view spreading below. At the trekking end is a famous Gacheon village which is more famous for its terraced rice paddies and mysterious stone phallic symbols.

You may stop at German Village set in the beautiful surroundings and inhibited by Korean-Germans who had gone to Germany in the 1960s seeking work and later had returned. Then, on to Tongyeong, a traditional seaport of great charm and historical interests. The city is also famous for lacquer ware, pearl, mother of pearl artwork, and mask dance. Local markets offer the sights, sounds and smells of a fishing port.

Tongyeong is a traditional seaport of great charm and historical interests. Tour the Dongpirang village where you will enjoy witty and delightful murals and sweeping view of Tongyeong harbor. This village was on the verge of being torn down, but what were once shabby houses now welcome visitors with radiant colors. On a long stretch of quay-side is Jungang market, and you will witness a lively atmosphere as vendors try to make a deal. Rows of seafood restaurants and local eateries offer anything that comes from the ocean, the sights, sounds and smells of a fishing port. At the nearby Gangguan port, you may want to step in to the replica turtle ship from the 16th century. Later, you will visit Lacquerware Museum and marvel at the sophisticated craftsmanship and nacre lacquerwares that have long been admired and sought after by collectors and aficionados worldwide.

Geoje is a shipbuilding Mecca featuring several natural harbors. And once was the final port of call of the SS Meredith Victory at Christmas 1950. It is best known for evacuating more than 14,000 refugees in a single mission in the largest humanitarian rescue operation by a single ship during the Korean War.

There's time to visit the POW Camp which at one time held around 170,000 prisoners in 28 facilities until an armistice was concluded in 1953. The former camp has been reborn as a historic park with various exhibition halls that help visitors comprehend the actual situation at the time and gives visitors an up close lesson on the devastating consequences of the war. POW camp accommodated 150,000 North Korean soldiers and 20,000 Chinese soldiers.

Today, you will experience the deepest highway on earth, Geoga bridge, a 8.2km-long bridge which is a combination of two cable-stayed bridges built on the open sea, a number of approach bridges and tunnels built on three islands in the middle and a 3.7km-long immersed tube constructed 48m below mean water level.

Busan is Korea's second largest city surrounded by the ocean on one side, and mountains on the other. Its deep harbor and gentle tides have allowed it to grow into the largest port in Korea and the fifth largest in the world. It is also a center of industry and commerce, a thriving metropolis formed unusually long in shape along its coastal line.

Day 7 Busan - Gyeongju (B) 120km
You will tour Yongdusan Park where people of all ages hang out for recreational activities. Sitting on top of the hillock of a steep slope is Busan tower topped by an observatory, overlooking the hilly terrain of this mountainous coastal city and the harbor in a breathtaking view. At the smack dab in the middle of the park stands the statue of Yi Sunsin, who is credited with the perfection of the first iron-clad warship in history. You will also see a flower clock and a Busan citizen's bell that they ring on New Years' Day, March 1 and August 15.

Just off the park is Gwangbokro Street, full of shops selling everything from bargains to luxury items. Adjacent is a maze of small streets alive with color, sidewalks sprinkled with unique shops and local eateries. Enjoy the vibrant ambience as you leisurely make your way to the BIFF square, another area packed with trendy shops, movie theaters and food stalls. The square is Busan's modern movie district which was originally little more than a pair of cinemas that were built over half a century ago. However, major renovations took place ahead of the first Busan International Film Festival (BIFF), and the newly transformed district was named BIFF Square on August 14, 1996.

Across the street from the square is a fascinating Jagalchi fish market, a great attraction located dockside. Here you will find a diverse array of seafood on display as you walk along the narrow alleys of street vendors. A nearby indoor market features live fish in the tanks and the upstairs are dried fish along with many restaurants selling raw fish at reasonable prices. The market is really a visual and culinary treat.

Next, visit UN memorial cemetery where 2,300 deceased soldiers from sixteen Korean War allies rest in honored serenity. Learn about the Korean War and pay tribute to those who dedicated their lives to the World Peace. During the period of 1951-1954, remains of approximately 11,000 fallen of the UN Forces were buried here. Thereafter, most were repatriated to their home countries. In the cemetery, lie the remains of Korean War heros from Australia(281), Canada(378), France(44), the Netherlands(117), New Zealand(34), Norway(1), South Africa(11), Turkey(462), the United Kingdom(885), the United States(36) and Republic of Korea(36) as well as of unknown allied soldiers(4) and non belligerents(11).

You will tour the 7th century Beomeosa showcasing Korea's traditional Buddhist architecture. Since it is built on a mountain slope, the temple buildings are arranged on three elevations, but the setting is very peaceful and serene. Passing One-Pillar Gate, Four Guardian's Gate, and the Gate of Non Duality gets you to get to the spiritual world of the Buddha. Learn about the Buddhist culture and temple's history as you explore the compound, including halls, pagodas, stone lamps, and Brahma bell pavilion holding four dharma instruments. In the nearby valley is a mass of wild wisteria trees that have curled around each other, every year in late spring, their lavender blossoms create an extraordinary sight, unseen anywhere else in Korea.

With time to visit, travel to Gyeongju, an ancient capital of Silla (BC57-AD935), often dubbed as Museum without Walls. Today, you are treated to one of the ten most historically significant sites in the world with ancient temples, weathered stone pagodas, royal tombs, Buddhist bas-reliefs, and fortress ruins.

Day 8 Gyeongju (B)
With a full day to further explore the delights of UNESCO World Heritage Site, Seokguram grotto. It is the home of the serene stone Buddha of the eighth century. Inside, a white statue of a seated Buddha in a sublime state of enlightenment, is surrounded by 37 relief figures of Bodhisattvas, disciples, devas, and guardian kings. The grotto represents the magnificent harmony of religion, science and the arts of Buddhism, symbolizing the pure land in which Buddha resides.

A short ride leads you to another UNESCO World Heritage Site, Bulguksa temple, where you will witness the impressive gates, symbolic bridges leading up to the world of Buddha, graceful architectures, Three-storied Seokgatap and highly ornate Dabotap blending well into the architectural harmony. At Gwaneumjeon hall, check out the image of the Avalokitesvara who is referred to as the Bodhisattva of Compassion and has a thousand hands, and eyes in each so as to reach out to those in need of help. You will see a gilded statue of Vairocana with the gesture of the first wisdom, Sakyamuni Buddha along with sixteen figures of Buddha's disciples sitting in deep meditation, and a gilt-bronze Amitabha Buddha who is the ruler of the Western Paradise Sukhavati. The architectural design of Bulguksa is one of constrained dignity, peace, and harmony and the temple still remains one of the most remarkable achievements of the ancient Far East.

Visit Gyeongju National Museum for a great insight into Silla culture and history. The first thing that you will notice is The Bell of King Seongdeok, the largest extant bell in Korea. You must certainly stand in awe before the bell from the 8th century with such artistic beauty of design. The bell is distinguished not only for its outstanding beauty but also for its long reverberating sound, the incredibly precise casting technique, in addition to the sad legend surrounding it. On entering the museum, you will marvel at the priceless archaeological and historical artifacts including splendid gold crowns, earrings, belts, ornaments, glassware, potteries, and clay figures as well as a royal barge.

Afterwards, explore Donggung palace and Wolji pond, a pleasure garden built to commemorate the victory of Silla, and later used as the recreational area for the Silla's royal family, then followed by a relaxed walking tour covering the ruins of Banwolseong or half moon fortress where Silla palace and eight fortress gates stood. There is a Seokbinggo, a freezer made of stones. Half of the structure is underground while the other half is above ground with three air vents on top. You can feel the cold oozing out of this simple structure. Near fortress is Gyerim, literally meaning Rooster Forest. It is a sacred woodland area where progenitor of the Gyeongju Kim family, Kim Alji, was supposed to have been born.

Then, check out the world's oldest existing astronomical observatory, Cheomseongdae. Each stone used in the observatory bears symbolic meaning; the same number of the days of the year by lunar calendar, the number of the major stars, the months of the year and the numbers of the seasonal divisions. Nearby Tumuli Park encompasses 23 huge tomb mounds where Silla rulers were buried. One of the tombs, Cheonmachong, is opened to the public and you can go inside and see how the tombs were made and replicas of the treasures excavated in 1973.

Day 9 Gyeongju - Andong (B) 220km
Your journey continues to Andong, a stronghold of Confucianism that has deeply influenced the lives of Koreans in all aspects. You will explore UNESCO World Heritage Site, Hahoemaeul from the 15th century. It is the best preserved traditional village portraying and spanning the life of the Joseon Dynasty (1392-1910) and some 480 Korean traditional houses, both large and small, are still fully functioning. As you take a walk in the narrow alleys, enjoy the rustic and old charm of this unique village. You cannot possibly miss a 600-years old zelkova tree, the home to the village spirit. At the tree's base is where residents still make their wishes. The village is also known for traditional festival, Hahoe Mask Dance which gave common people the opportunity to mock those in authority, and in particular the Byeolsingut, a shaman ritual exorcising evil spirits, dating back to the Goryeo dynasty (918-1392).

Visit Jebiwon Buddha or Ichon-dong Stone Buddha. The awe-inspiring Buddha statue stands guard over the northern entrance way to Andong for nearly 1000 years. It's a relief-carving of the body on a sheer boulder-side, under a 3D-carved head made from a natural stone found on top of that cliff.

Visit Andong Folk Museum for an in-depth information of traditional life and illustrating traditional Confucian culture. The museum exhibits a variety of legacies relating mainly to four cardinal ceremonies, coming of an age, wedding, funeral, ancestral memorial service, as well as dozens of pieces of pottery, utensils, clothing, farming tools and traditional folk games in small models.

Day 10 Andong - Punggi - Danyang - Cheongpung (B) 130km
Depart Andong early to arrive in Cheongpung. En route, visit Sosuseowon from the 16th century, the first private institute established in Korea. It was a birthplace of Confucian education and a cradle of prominent scholars. The compound itself is composed of two sections; academic studies and research, and memorial service. There are several old buildings where scholars learned and studied loyalty, filial piety, manners and knowledge. Although the educational function of the facility has long since ceased, the commemorative ceremonies have been and are still held twice a year.

While in Punggi, a small remote town famous for quality apples and ginseng, you will explore ginseng market with piles of fresh ginseng roots, including variety array of ginseng products. This mysterious root, which has a good smell better than it tastes, has historically been considered an empowering medicine and a cure-all. Street vendors sell flowers, fruits, food stuff and home grown grains and vegetables. With all these features combined creates a rural ambience of Korea's remote town.

With time to visit about 5 hours trekking from Samga-ri to Euigok-ri is planned. After the steep path overgrown with trees and royal azaleas, there is a signpost "1,000m above the sea level" and then Yangbanbawi Rock on the right. After a while, you will reach the last tough path of the course that leads you to Birobong Peak (1,439m). The course is also part of the Baekdu Daegan (referring to a continuous mountain-range ridge-line from Baekdusan Mountain in the north down to Jirisan Mountain in the south). Then, on a bus to Danyang, a small town set in the beautiful surroundings.

Day 11 Cheongpoung - Odaesan - Seoraksan (B) 250km
On the way to Seoraksan national park, you will stop off at Odaesan for a visit of the 7th century Woljeongsa temple.You will pass under the Boje-ru, which is adorned with various guardians to gain access to the temple courtyard. Straight ahead, you will immediately notice the nine-story, octagonal shaped, stone pagoda from the Goryeo Dynasty. The uniquely shaped pagoda is not only the main highlight to the temple, but it's also National Treasure. Wind chimes hang on each corner of the pagoda, while a seated stone Bodhisattva is situated out in front making an offering. Another amazing part of the temple is the 800-meter path arched by tall fir trees. The trickles of stream and fresh yet musky fir trees small add the pleasure of your visit.

You will then pass by Gisamun beach, in the middle of which runs the 38th parallel north latitude that divided the country in 1945. Tucked away in a small village, the beach is rather unpopular to casual vacationers while popular among surfers, being one of the best five winter surfing spots in Korea. The water runs deep and the beach has high waves that approach the shore in a straight line without breaking up into small waves.

Seoraksan national park is a place that you can definitely find lots of outdoor activities to make it worth while for an extended stay. Rugged peaks, fantastic cliffs, numerous waterfalls, unique rock formations, and scenic valleys altogether make this park and surrounding area some of the most beautiful sceneries on the Korean peninsula, and give this area an unparalleled popularity around the year.

Day 12 Seoraksan (B)
The word of the day is hiking of varying lengths and difficulty. Only a small walk from the park entrance, you will marvel at a large bronze statues, Unification Buddha, symbolizing Korean people's hope for reunification of the country. A little further on is Sinheungsa temple where Cheonbuldong valley and Ulsanbawi trails begin.

Cheonbuldong valley Trail
It is the most impressive valley in the park, leading to Biseondae, Yangpok waterfalls and finally the peak of Seoraksan (1,708m). One hears many legends of the heavenly nymphs who come down to play at Biseondae while taking a bathe in the placid pools of the valleys that are hidden from the human eyes. Near Biseondae rises Janggunbong majestically and among the crags of it is Geumgang cave with a tiny temple inside. You will head up a very steep incline for 600m from the gentle slope of the trail, and you can scale only by carefully ascending the long, steep, metal stairs bolted onto the sheer cliff face. The hike, although hard, comes with a stunning view of numerous cliffy peaks and mountain valley. From Biseondae, another 3.5km to Yangpok Falls, so spacious yet everywhere you looked you are surrounded by giant mountain peaks.

Ulsanbawi Trail
About an hour and half into the walk from the park entrance is Gyejoam hermitage. Located at the base of Ulsanbawi, and the point at which the trail takes a sharp rise upwards. In front of the hermitage on a spacious stone slab is a huge spherical rock called Heundeulbawi. This rock is so perfectly balanced that it can be shaken with some effort, but nobody gets further than waggling it. Your adventure begins by climbing a massive steep staircase that winds its way up the side of the cliff that angle up Ulsanbawi, a 2.8km-long ridge of naked, gray stone peaks jutting 873m into the sky.

Biryong waterfall Trail
The trail is relatively easy for anyone to enjoy and you will view Biryeong waterfalls at the trail end. About 400m further above the falls, you will be amazed at Towangseong waterfalls cascading down a 320-meter cliff.

Cable Car
There is a cable car that picks you up at the valley floor to the Gwongeumseong. The peak is surrounded by cavernous drop-off cliffs, cloaked in more towering rocky summits. Definitely, you stand in awe on the top: sweeping panoramic views of the park around you, the Pacific Ocean, and the small beachside town of Sokcho. Be careful as always as there is not much room to move about and people constantly going up and down and moving around.

Among the recommendable trails from Sogongwon or park entrance (230m above sea level) are as follow and the given times are based on round trip starting and ending at Sogongwon in a relaxed pace.
1. Biryong Falls (310m) + Towangseong Falls observatory (5.6km): 3 hours 30 minutes - Moderate and Strenuous
2. Biseondae (334m) (6km): 2 hours 30 minutes - Moderate
3. Biseondae + Geumgang cave (495m) (7.2km): 4 hours - Moderate and Strenuous
4. Biseondae + Yangpok (715m) (13.2km): 7 hours - Moderate
5. Heundeulbawi (510m) (6.6km): 3 hours - Moderate
6. Heundeulbawi + Ulsanbawi (873m) (7.6km): 5 hours 30 minutes - Moderate and Strenuous
7. Gwongeumseong (800m) Cable car (3.4km): 1 hour (roughly four minutes each up and down) - Moderate

Sokcho has so much more to offer than just mountains. Daepohang becomes a great attraction when this small alley lit up. You will see a wide variety of fresh seafood harvested from the nearby sea and a number of small restaurants serving sliced raw fish. You will find something to enjoy, from simply feeling the ambiance of this small fishing port to taking picture. And in downtown, there is a colorful market selling fishes, fruits, vegetables, grains and daily necessities, and a little further down is a North Korean refugee village that can be accessible by a hand-pulled boat.

Day 13 Seoraksan - Goseong - Hwajinpo - Seoul (B) 310km
At the northern tip of the east coast sits Unification Observatory. With the entry permit and sign to place in the vehicle window ready, continue towards the north, driving past lots of tank traps comprising large lumps of concrete set on either side of the road, all a strange and eerie reminder of the tensions that exist between the two Koreas and the stark reality of the divided country. While there, you will get a glimpse of the much talked about border dividing the two Koreas and see the road and train track stretched side by side ahead across the North Korea.

Hwajinpo is a charming coastal town located by the scenic lagoon edged by sweetbriers and reeds. Stop at Kim Ilsung villa not to glorify him but to learn Korea's complicated history. It is where Kim Ilsung and his family spent their summer holidays until 1950. The villa displays photos and documents chronicling his life and modern Korean history. When the Korean War ended in 1953, the border between the Koreas was redrawn, and the Hwajinpo wound up in the South. After the tour, enjoy a tranquil nature and beautiful landscape as your make your way to Seoul.

Day 14 Departure (B) 60km
After this wonderful trip exploring Korea and with time to reflect on your surprise in your experience, you will return to the airport in time for your flight. By boarding, you are already high above Incheon heading for home.