SPECIAL INTEREST
Rivers by Bike 12 days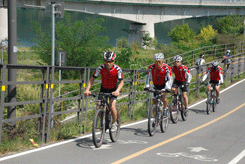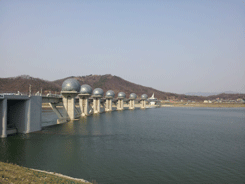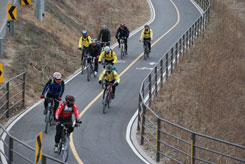 Tour Highlights
---
Gyeongbokgung Palace
National Folk Museum of Korea
Insadong Antique Shopping Street
Gwangjang Market
Silleuksa Temple
Jungang Tower
Hahoemaeul Village
Andong Folk Museum
Daegu Herb Medicine Street

Seokguram Grotto
Bulguksa Temple
Gyeongju National Museum
Donggung palace and Wolji pond
Cheomseongdae Astronomical Observatory
Tumuli Park
---
Tour from April through October
Lunches and dinners paid locally
Day backpack for anything you may need while cycling
Tour facts and features
Accommodation

11 hotel nights in 2 and 4 star twin share accommodation
Single room avaialble at surcharge


Meals
10 breakfasts
Transport
All transportation by private vehicle
Guided
Services of an English speaking guide
Group size
Maximum 14
Age range
18+
Activity
Cycling of 6 days, but very difficult uphill on day 6
Degrees of difficulty
Normal

Tips on Korean names
Expressway - 고속국도
National Road - 국도
Provincial Road - 지방도
City. County Road - 시. 군도
Other Road - 기타도로
Railroad - 철도
Bike Lane, Bike Path, Bikeway - 자전거도로
Sharp curve - 급커브
Steep gradient - 급경사

Usually named with following Korean suffixes stand for
Ro (로) - Road or Street
Daero (대로) - Main Street or Thoroughfare
Gil (길) - Road or Street
Ri (리) - Village
Maeul (마을) - Village
Dong (동) - Administrative unit in the city or village
Myeon (면) - Small County
Eup (읍) - Large County
Gun (군) - Administrative unit covering Myeon and Eup
Si (시) - City
Do (도) - Province
Cheong (청) - Office of Gun, Si or Do
Samuso (사무소) - Office
Samgeori (삼거리) - Fork or Junction
T Junction (T자형 삼거리)
Gyocharo (교차로) - Crossroads or Intersection
Sageori (사거리) - Crossroads or Intersection
Negeori (네거리) - Crossroads or Intersection
Nadeulmok (나들목) - Interchange
Gyo (교) - Bridge
Daegyo (대교) - Long Bridge
Yeok (역) - Subway station, Railroad station
Tunnel (터널) - Tunnel
Jihado (지하도) - Underpass
Guldari (굴다리) - Underpass
Jae (재) - Pass or Hill
Ryeong (령) - Mountain pass

Road signs are almost always in English as well as Hangeul.
Language is less of a problem than it might seem - many people understand some English.
Riding on any of the major roads can be physically and mentally exhausting and frustrating, traffic in general has little respect for your cycling plight.
Accommodation in motels or pensions is ubiquitous, standard and economical.

Introduction to ten bike types (Excerpts from Helsinki Times)
City bike / General purpose bicycle
The bike comes with a basket for shopping and is for short less than 5km work journeys or trips to a shop.
A bike with a hub gear for occasional use in a city. A model with derailleur gears is suitable for a cyclist regularly riding longer distances. Accessories, such as mud guard and a rear rack, are usually standard features.
Hub gear (1-8 speeds)
Requires less maintenance than many other bicycle types.
The upright riding position and wide, soft saddle are comfortable over short distances.
Derailleur gears (24 speeds)
Lighter to pedal than a model with a hub gear.

Hybrid bicycle
A general purpose bike that combines the best characteristics of mountain and road bikes. Available with both derailleur and hub gears.
A multi-purpose hybrid bike is suited to tarmac roads and gravel surfaces as well as urban environment but is too heavy for commuting or cycling trips covering dozens of kilometers.
Thanks to narrower wheels, it is lighter to pedal than a city bike.
Derailleur models have smaller rolling resistance than models with hub gears, making them lighter pedal.

Road bicycle / Impulso Ultegra / Racing bike
Suitable for a cycling enthusiasts for fast, long-distance training rides on tarmac.
Thanks to an aluminum or carbon-fiber frame, the bike is light.
Narrow tyres with a high inflation, pressure make the bike light to pedal.
Comfortable lover long distances with the drop handlebar allowing the rider to change their riding position.
Pedals with toe cliff allow the rider to gain power also on the up-stroke.
The narrow and hard saddle is well-suited to the riding position. Riders usually wear padded cycling shorts.
Studded winger tyres or proper mud guards cannot be fitted to road bikes.

Fitness bicycle
A blend of a hybrid and road bike. A city bike with straight handlebar.
20-27-speed trek bike for a long training rides and commuting.
Lighter to ride than a cyclo-cross bike.
Narrow and smooth tyres are well-suited for long trips but can feel hard when riding in town.
The handlebar position can be adjusted.
Slightly heavier than a road bike but allows the fitting of various accessories, including mud guard and bags.

Mountain bicycle
For a difficult terrain, such as footpaths and forest roads.
For cross-country riding, downhill biking or enduro. Suitable for use as a general-purpose bike only if you regularly use roads that are in bad condition and do not mind the low riding position. Suited to short work journey particularly in the winter.
Either full or front suspension.
Wide tyres with tread patterns give a strong grip.
Heavy to ride on tarmac.
The low riding position is good for a cross-country riding but pouts the neck under strain when riding in town.

Cyclo-cross bicycle
A road bike complete with select features from a mountain bike.
Sportier than a hybrid bike but more versatile than a road bike.
Cycling enthusiasts for fast riding all year round. Suitable for long work journeys and training rides.
Has a higher frame than hybrid bikes.
Drop handlebars allow the rider to change their riding position.
Tyres with tread pattern offer a good grip.
Studded with winter tyres and narrow road tyres for summer can be fitted to the same rims.

Electric bicycle
The maximum engine power can be 250 watts and the maximum travel speed 25kms in an hour.
For commuting, shopping trips, for the elderly or people with joint problems.
Hub motor or a mid-drive system. Light to pedal, can be ridden in a work clothes.
The motor can be switched on when riding uphill or against the wind.
The motor is automatically switched off when the speed exceeds 25kms per hour.
The motor is low maintenance.
The bike is heavy to pedal when the motor is not on.

Classic bicycle
A simple and streamlined bike. The oldest models have been in production for a century.
Pleasant city rides.
Luxury models are hand-made. Besides the traditional models, there are also newer, lighter versions available.
Some classic can be customized by picking the number of speeds, the color, saddle and extras.

Single speed bike
Looks like a pared-down version of a road bike with just one speed.
Suited to riding in a city or commuting.
The bike has a freewheel, which allows coasting.
If the wheel is turned, then pedals turn all the time.
The bike's gear ratio can be adjusted according to the riding distances. This is done by changing gears. The chains can also be changed.

Fixed-gear bicycle
A single-speed bike without freewheel.
Lifestyle riders.
Modelled on a track bike, which many enthusiasts use as a basis for building their own fixie.
A fixed ratio, meaning that the pedals rotate at the same speed with the wheels. The rider cannot stop pedaling. Riding requires some practicing. The front brake should be kept in accordance with law. Without the front brake, the only way to stop the bike is to control the pedal speed. Stopping quickly is difficult.

Experts : Rasmus Ronn, managing director at Fillarikellari; Jari Vainio, Business owner, Classic Bike Finland; Joonas Berggren, bike designer at Pyorapalvelu Berggren; and Juhani Laakso, product manager at Huntteri.

---
Click on the days to access the programs quick
| | | |
| --- | --- | --- |
| Days | Visits and Activities | Distance |
| Day 1 | Arrive Seoul | 60km |
| Day 2 | Seoul | |
| Day 3 | Seoul - Gwangnaru Park - Paldang - Ungilsan station - Cheongpyeong - Gapyeong | 87km |
| Day 4 | Gapyeong - Yeoju | 110km |
| Day 5 | Yeoju - Chungju | 70km |
| Day 6 | Chungju - Mungyeong | 85km |
| Day 7 | Mungyeong - Andong | 87km |
| Day 8 | Andong - Pungyang - Gumi | 130km |
| Day 9 | Gumi - Daegu | 75km |
| Day 10 | Daegu - Gyeongju | 80km |
| Day 11 | Gyeongju - Seoul | 360km |
| Day 12 | Departure | 60km |

Day 1 Arrive Seoul (B) 60km
Touching down at Incheon International Airport, and after you cle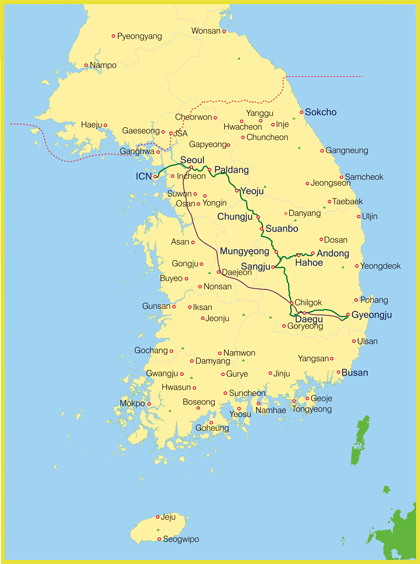 ar Passport and Customs control, your tour guide will greet you at the main passenger terminal and transport you to your hotel. Bike pick up upon check in. The evening is yours to relax, allowing your mind and body time to adjust to different time zone.

Day 2 Seoul (B)
Your exploration this morning begins with a driving tour of Seoul, featuring sites such as Seoul Plaza, City Hall, Cheonggye Square and pedestrian-friendly Gwanghwamun Plaza that is hemmed in on both sides by rushing traffic and office buildings. The plaza is lined on each side with 365m long streamlets, two centimeters deep and one meter across, the stone bed of the plaza's east side waterway engraved with important events in chronological order from 1392 to 2008.

Standing high on a stone pillar is a statue of Yi Sunsin who had engaged in twenty-three naval battles and emerged victorious in all of them during the Hideyoshi invasion (1592-1598). King Sejong who propagated the Korean alphabet in the 15th century is also honored with prominent statue. On August 16, 2014, Pope Francis celebrated Mass in this plaza to beatify 124 Korean martyrs. Near the southwest corner of the plaza is Korea's Kilometer Zero, marking the distances to 64 cities around the world, including Seoul's antipode, Montevideo, Uruguay, 19,606km.

Step back in time to when life was gracefully slow and discover Gyeongbokgung Palace, a particularly charming spot that represents a colorful and turbulent side of the capital's 500-year history. Depending on timing, you may witness the Royal Guard Changing Ceremony featuring parade, password verification, duty shift and patrolling the gate. Accompanied by a court band with its colorful costumes and royal flags, the ceremony is performed daily basis at 10:00 and 14:00 except Tuesdays, although it is cancelled in case of rain or extremely hot or cold weather.

Up from the gates is a spacious stone-paved courtyard that is fully enclosed by wooden cloisters, and at the center of which runs three footpaths through two rows of rank stones, indicating the positions of the officials with the highest rank being closer to the hall.

Standing majestically on top of a two-tiered stone platform that is lined with detailed balustrades is Geunjeongjeon Hall, where the king formally granted audiences to his officials, gave declarations of national importance, presided over large official functions, and greeted foreign envoys and ambassadors. Check out the royal throne and a large painting, depicting sun, moon, five peaks, streams and pine trees, which was the crucial signifier of the king. And up in the center of the ceiling, the bright golden dragons in bold relief indicate the presence of the king.

At the back of the throne hall is a group of court offices. Displayed in front of the King's official quarters is sundial, conceived in order to catch the shadow of the sun, which tells time and 24 periods of seasonal change from the winter solstice to the summer solstice.

Sitting on the island in the rectangular lake is Gyeonghoeru. Supported by 48 square and cylindrical massive stone pillars representing the idea of Yin and Yang, this magnificent pavilion was used for many purposes ranging from receptions to national examinations.

Gangnyeongjeon is the king's sleeping and living quarters while Gyotaejeon is the queen's domain containing a number of halls. The noted feature of these main buildings is an absence of a top roof ridge.

Amisan Garden, landscaped with four hexagonal chimneys in orange bricks, is seldom noticed by the hurried visitors. Jagyeongjeon is the queen dowager's residence. Although less colorful, it is worth noting the wall, adorned with floral designs and the chimneys with ten longevity symbols.

Hyangwonjeong features a small pond with a manmade islet that supports a beautiful two-story pavilion. Behind this serene garden is Geoncheonggung, where the king and queen could relax in peace and quiet. It was here that the first electric lights in the country were installed in 1887 after 8 years of Thomas Edison's invention and a tragic chapter in Korea's history was recorded when empress Myeongseong was assassinated by the sword-bearing Japanese assassins in the early morning of 8 October 1895, allegedly under orders from Miura Goro.

Your visit to the National Folk Museum of Korea will familiarize you with wealthy culture of this friendly and picturesque nation. It is an excellent facility to illustrate the history of traditional life of the Korean people from the prehistoric age to the Joseon dynasty. The permanent exhibition features life and work, costumes and ornaments, handicrafts and technology, educations, living quarters, dietary life, oriental medicine, performing arts and games, beliefs and rituals, and socio cultural life.

Insadong, at one time the center of traditional Korean art and antiques, features a mixture of historical and modern atmosphere representing the cultural glimpse of the nation. Clustered along the main street and alleys are lined with street vendors, wooden tea houses, restaurants and numerous galleries and shops dealing in antiques, oriental art supplies, and modern Korean art of all types and styles. Soak in the paintings, upscale artworks, antiques and potteries while you can. Get lucky and you just might meet the artist themselves. It can be plenty of fun walking on the main street, but you venture into the hidden alleys that do spring some unexpected surprises. While here, you may want to buy some souvenirs or simply wander and browse at leisure admiring cultural ambience.

Enjoy a brief visit to Gwangjang market. It is one of few markets retaining traditional Korean atmosphere. Established in 1905, the market today has 5,000 independent shops. On the market's ground level, the floor space is dominated by scores of small snack stalls selling rustic delicacies and cheap treats. Clouds of smoke billow out from the boiling pans, diverse types of pancakes sizzle on hot iron grills and the smell from the eateries filling the air. The roadside vendors hawking everything from food, fruits, vegetables to seafood and an entire upper level dedicated to high quality silk, satin, and linen. Try out some sorts of Korean snacks and see a side of regular Seoul life.

Drive past Cheonggyecheon Stream. After the Korean War (1950-1953), more people migrated into Seoul to make their living and settled down along the stream in shabby makeshift houses. The accompanying trash and waste, and deteriorating conditions resulted in an eyesore for the city. The stream was covered with layers of concrete in the mid 1950s and roadway until the massive urban renewal project freed it in 2005. Today, a 5.8km creek tumbles gently through downtown Seoul, providing a much needed source of peace and relaxation for the citizens of this fast-paced city.

Day 3 Seoul - Paldang - Cheongpyeong - Gapyeong (B) 87km
With time to hassle over the city's traffic travel on a bus for 18km to Gwangnaru Park, where you will begin your cycling to Gapyeong (69km). Though, English signs are rare to find, the bikeways are well established and marked properly for any to follow. There is no better way to enjoy the nature and culture than cycling along the Bukhangang. The bikeways with lot of flat and rolling are suitable for fit cyclists with basic skills, but not for professional races or intense competition.

Your first day cycling may roughly break into three sectors, Gwangnaru Park to Ungilsan station (26km), Unglisan station to Sincheongpyeong Daegyo Bridge (23km) and from the bridge to Gapyeong (20km) along the bikeways.

While at Ungilsan station, there is a roadway option with a couple of steep gradient. The two-lane roadway with speeding traffic runs in the opposite side of the river until you get to the Sincheongpyeong Daegyo Bridge (25km) where you cross to join the bikeway. From there on, a pleasant journey on a bikeway to Gapyeong (가평), a beautiful town set by the mountains, rivers and lakes. It is one of the favorite relaxing and vacation destinations in the region.

Day 4 Gapyeong - Yeoju (B) 110km
Today, you will enjoy cycling southward to Yeoju. You may have three options to choose from in the first leg of your cycling.
1) Gapeyong to Cheongpyeong 1-gyo Bridge (청평1교) cycling on a two-lane roadway that runs along the west side of the Bukhangang River, passing by Nami Island (남이섬) and a number of villages, Geumdaeri, Goseongri including Petite France, a theme park designed like a French village. The road is relatively narrow, steep gradient with sharp curves and pretty busy on weekends (32km).

2) Gapyeong - Cheongpyeong 1-gyo Bridge (청평1교) cycling on a bikeway that you had previous day (19km)

3) Gapyeong - Cheongpyeong 1-gyo Bridge (청평1교) on a vehicle

From Cheongpyeong 1-gyo Bridge (청평1교), cycling on a bikeway to Ungilsan station you had already experienced (23km) from where you will enjoy a rolling ride of 7km over the defunct railroad and bikeway to Sinwon station by passing number of tunnels. This paved stretch follows the line of the old Jungangseon Railroad, which was built in 1939 to connect Gyeongju. Your cycling continues to Yeoju another 50km.

Your cycling path to Yeoju from Cheongpyeong 1- brdige (청평1교) is a fairly flat, and you will enjoy riding as you pass by the towns and villages including Yongdamri, Sinwonri, Guksuri, Yangpyeong, Hajapo, and Sangjapo. The weirs were constructed as part of the river restoration project to improve water quality, control the flood and to help with water shortages. One such weir you will pass by is Ipobo that was built in the shape of an egret flying up into the sky. Other weirs in Yeoju are Yeojubo and Gangcheonbo.
While in Yeoju, explore Silleuksa from the Silla dynasty (BC 57-AD 935). It is a rare temple that is perched on a riverbank amid an attractive waterfront whose cove forms a snug and cosy enclosure for this ancient sanctuary. Many pray at a beautiful seven-tier marble pagoda, that is masterfully adorned with dragon and lotus carvings. Incense burning in the temple and sights and smells mixed offer visitors a really magical experience. A 500-year-old aromatic juniper tree and a 600-year-old ginkgo tree grow on the temple grounds, and on a small hill stands a seven-story brick pagoda, the only existing Goryeo brick pagoda (918-1392).

Yeongneung is a tomb of royal couple of King Sejong who is widely regarded as the most enlightened king in Korean history. He promulgated Korean Alphabet and also invented such scientific devices as a rain gauge, a celestial globe, sundial, armillary sphere, water clock, promoted the development of classical court music, and improved metal type printing techniques. Many replicas of inventions that were commissioned by the king are displayed near the entrance to burial mound. Near the tomb and all around it are life-sized statues of warriors and horses, put here to protect the King. UNESCO bestowed the honor to the 40 Joseon Dynasty Royal Tombs including Yeongneung as World Heritage sites.

Day 5 Yeoju - Chungju (B) 70km
Make your way along the river to Chungju (70km) while enjoying a relaxed biking. The trails are still flat and scenery is beautiful. Out in the countryside, up the valley and up in the hills, there are health apple orchards. Chungju has an outstanding cultural background. In addition, the natural scenery created by beautiful mountains, lakes, and hot springs are the crucial assets of Chungju. Taking pride as the origins of Taekgyeon, a traditional martial art, and Gayageum, a traditional musical stringed instrument invented by Ureuk. Created by the Chungju Dam and dubbed an inland sea, Chungjuho Lake is large enough to straddle the three cities of Chungju, Jecheon, and Danyang. In Chungju, a 7-story Jungang Tower stands, marking the central location of the Korean Peninsula and you will also see it.

Day 6 Chungju - Mungyeong (B) 85km
The day is really challenging but most rewarding with a scenic trail of 85km over the chain of passes. The Saejaegil, the series of passes called Mungyeong Saejae, is a mountain pass that lies on Joryeong mountain between the main peak (1017m) and Sinseon Peak (967m). The pass itself rises to 642 meters above sea level. Water flowing down from the Mungyeong side of the pass eventually flows into the Nakdong River and meets the sea at Busan. Runoff from the other side eventually flows into the Han River which passes through Seoul to meet the Yellow Sea at Incheon. The pass is also known by the name Joryeong. Both names literally mean "bird pass," and probably signify "a pass so high that even birds find the crossing difficult." Mungyeong, South Korea is a 1000-year-old potter's city known for its tea ware. It is the home of many tea ware artists. Museums in Mungyeong includes the historical museum at Mungyeong Saejae, a ceramics museum nearby, and the Coal Museum in Gaeun-eup. Mungyeong is also known for quality apples.

Day 7 Mungyoeng - Andong (B) 87km
The tour continues on a bike along the Nakdong River to UNESCO World Heritage Site, Hahoemaul (60km) from the 15th century. It is the best preserved traditional village portraying and spanning the life of the Joseon Dynasty (1392-1910) and some 480 Korean traditional houses, both large and small, are still fully functioning. As you take a walk in the narrow alleys, enjoy the rustic and old charm of this unique village. You cannot possibly miss a 600-years old zelkova tree, the home to the village spirit. At the tree's base is where residents still make their wishes. The village is also known for traditional festival, Hahoe Mask Dance which gave common people the opportunity to mock those in authority, and in particular the Byeolsingut, a shaman ritual exorcising evil spirits, dating back to the Goryeo dynasty (918-1392).

Bike tour wraps up at Hahoe village, then travel on a bus to Andong, a stronghold of Confucianism in Korea, which has deeply influenced the lives of Koreans in all aspects. Or if only wish to, you can enjoy another 27km cycling from the village to Andong that ends your cycling tour in Korea.

Day 8 Andong - Pungyang - Gumi (B) 130km
Visit Andong Folk Museum offering in-depth information of traditional life and illustrating traditional Confucian culture. The museum exhibits a variety of legacies relating mainly to four cardinal ceremonies, coming of an age, wedding, funeral, ancestral memorial service, as well as dozens of pieces of pottery, utensils, clothing, farming tools and traditional folk games in small models.

Later, travel on a vehicle to Pungyang where you continue your bike tour as you have taken the same road on the way to Hahoe and Andong.
Spend the day enjoy biking journey of 75km to Gumi along the Nakdong river. Balance of the day at your own pursuit.

Day 9 Gumi - Daegu (B) 75km
Riverside bike path continues to Daegu, the 3rd largest city after Seoul and Busan. While here, explore Yangnyeongsi, a 700 meter-long streets, encapsulating the tradition of Korea's oriental medicine, filled with 56 pharmacies, 24 clinics, 76 wholesalers of ingredients, 20 ginseng stores, and 150 medicine brewery shops. The atmosphere is filled with the rich fragrance of raw medicinal products. Stroll down the street and take a deep breath, you will immediately feel more rejuvenated and relaxed. With this bike tour ends in Daegu.

Day 10 Daegu - Gyeongju (B) 80km
Gyeongju is an ancient capital of Silla (BC57-AD935) often dubbed as Museum without Walls. Today, you are treated to one of the ten most historically significant sites in the world with ancient temples, weathered stone pagodas, royal tombs, Buddhist bas-reliefs, and fortress ruins.

With a full day to further explore the delights of UNESCO World Heritage Site, Seokguram grotto. It is the home of the serene stone Buddha of the eighth century. Inside, a white statue of a seated Buddha in a sublime state of enlightenment, is surrounded by 37 relief figures of Bodhisattvas, disciples, devas, and guardian kings. The grotto represents the magnificent harmony of religion, science and the arts of Buddhism, symbolizing the pure land in which Buddha resides.

A short ride leads you to another UNESCO World Heritage Site, Bulguksa temple, where you will witness the impressive gates, symbolic bridges leading up to the world of Buddha, graceful architectures, Three-storied Seokgatap and highly ornate Dabotap blending well into the architectural harmony. At Gwaneumjeon hall, check out the image of the Avalokitesvara who is referred to as the Bodhisattva of Compassion and has a thousand hands, and eyes in each so as to reach out to those in need of help. You will see a gilded statue of Vairocana with the gesture of the first wisdom, Sakyamuni Buddha along with sixteen figures of Buddha's disciples sitting in deep meditation, and a gilt-bronze Amitabha Buddha who is the ruler of the Western Paradise Sukhavati. The architectural design of Bulguksa is one of constrained dignity, peace, and harmony and the temple still remains one of the most remarkable achievements of the ancient Far East.

The Gyeongju Historic Areas contain a remarkable concentration of outstanding examples of Korean Buddhist art, in the form of sculptures, reliefs, pagodas, and the remains of temples and palaces from the flowering, in particular between the 7th and 10th centuries, of this form of unique artistic expression.

Visit Gyeongju National Museum for a great insight into Silla culture and history. The first thing that you will notice is The Bell of King Seongdeok, the largest extant bell in Korea. You must certainly stand in awe before the bell from the 8th century with such artistic beauty of design. The bell is distinguished not only for its outstanding beauty but also for its long reverberating sound, the incredibly precise casting technique, in addition to the sad legend surrounding it. On entering the museum, you will marvel at the priceless archaeological and historical artifacts including splendid gold crowns, earrings, belts, ornaments, glassware, potteries, and clay figures as well as a royal barge.

Afterwards, explore Donggung palace and Wolji pond, a pleasure garden built to commemorate the victory of Silla, and later used as the recreational area for the Silla's royal family, then followed by a relaxed walking tour covering the ruins of Banwolseong or half moon fortress where Silla palace and eight fortress gates stood. There is a Seokbinggo, a freezer made of stones. Half of the structure is underground while the other half is above ground with three air vents on top. You can feel the cold oozing out of this simple structure. Near fortress is Gyerim, literally meaning Rooster Forest. It is a sacred woodland area where progenitor of the Gyeongju Kim family, Kim Alji, was supposed to have been born.

Then, check out the world's oldest existing astronomical observatory, Cheomseongdae. Each stone used in the observatory bears symbolic meaning; the same number of the days of the year by lunar calendar, the number of the major stars, the months of the year and the numbers of the seasonal divisions. Nearby Tumuli Park encompasses 23 huge tomb mounds where Silla rulers were buried. One of the tombs, Cheonmachong, is opened to the public and you can go inside and see how the tombs were made and replicas of the treasures excavated in 1973.

Day 11 Gyoengju - Seoul (B) 360km
With leisrely time to pack, return on a speed train to Seoul, and balance of the day at own pursuit.

Day 12 Departure (B) 60km
After this wonderful trip exploring Korea and with time to reflect on your surprise in your experience, you will return to the airport in time for your flight. By boarding, you are already high above Incheon heading for home.