SPECIAL INTEREST
Soft Adventure 9 days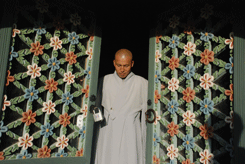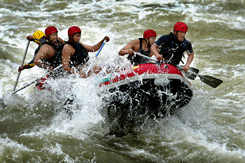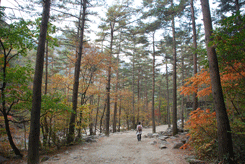 Tour Highlights
---
Gyeongbokgung Palace
National Folk Museum of Korea
Insadong Antique Shopping Street
Namdaemun Market
Soyang Dam
Biking
Rafting
Kim Ilsung Villa
Geojin Fishing Village
Seoraksan National Park
North Korean Submarine
Jeongdongjin Station
Hwanseongul Cave
Dosanseowon Confucian Academy
Jebiwon Biddha
Hahoemaeul Village
Hanji Paper Workshop
Beopjusa Temple
Songnisan Trekking
Oeammaeul Village
---
Tour from May through October
Lunches and dinners paid locally
Light-weight hiking boots
Own water bottle
Day backpack for anything you may need up in the mountains
Tour facts and features

Accommodation

8 hotel nights in 2 and 4 star twin share accommodation
Single room avaialble at surcharge


Meals

7 breakfasts

Transport

All transportation by private vehicle

Guided

Services of an English speaking guide

Group size

Maximum 14

Age range

18+

Degrees of difficulty

Normal
Click on the days to access the programs quick
| | | |
| --- | --- | --- |
| Days | Visits and Activities | Distance |
| Day 1 | Arrive Seoul | 60km |
| Day 2 | Seoul | |
| Day 3 | Seoul - Paldang - Gapyeong - Chuncheon | 110km |
| Day 4 | Chunchon - Inje - Hwajinpo - Geojin - Seoraksan | 200km |
| Day 5 | Seoraksan | |
| Day 6 | Seoraksan - Gangneung - Jeongdongjin - Dosan - Andong | 290km |
| Day 7 | Andong - Songnisan | 140km |
| Day 8 | Songnisan - Asan - Seoul | 190km |
| Day 9 | Departure | 60km |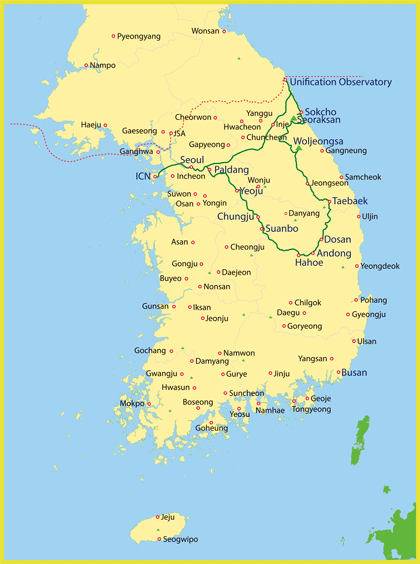 Day 1 Arrive Seoul (- - -)
60km
Touching down at Incheon International Airport places you in the heart of Korea. After you clear Passport and Customs control, your tour guide will greet you at the main passenger terminal and transport you to your hotel.

Day 2 Seoul (B)
Your exploration this morning begins with a driving tour of Seoul, featuring sites such as Seoul Plaza, City Hall, Cheonggye Square and pedestrian-friendly Gwanghwamun Plaza that is hemmed in on both sides by rushing traffic and office buildings. The plaza is lined on each side with 365m long streamlets, two centimeters deep and one meter across, the stone bed of the plaza's east side waterway engraved with important events in chronological order from 1392 to 2008.

Standing high on a stone pillar is a statue of Yi Sunsin who had engaged in twenty-three naval battles and emerged victorious in all of them during the Hideyoshi invasion (1592-1598). King Sejong who propagated the Korean alphabet in the 15th century is also honored with prominent statue. On August 16, 2014, Pope Francis celebrated Mass in this plaza to beatify 124 Korean martyrs. Near the southwest corner of the plaza is Korea's Kilometer Zero, marking the distances to 64 cities around the world, including Seoul's antipode, Montevideo, Uruguay, 19,606km.

Step back in time to when life was gracefully slow and discover Gyeongbokgung Palace, a particularly charming spot that represents a colorful and turbulent side of the capital's 500-year history. Depending on timing, you may witness the Royal Guard Changing Ceremony featuring parade, password verification, duty shift and patrolling the gate. Accompanied by a court band with its colorful costumes and royal flags, the ceremony is performed daily basis at 10:00 and 14:00 except Tuesdays, although it is cancelled in case of rain or extremely hot or cold weather.

Up from the gates is a spacious stone-paved courtyard that is fully enclosed by wooden cloisters, and at the center of which runs three footpaths through two rows of rank stones, indicating the positions of the officials with the highest rank being closer to the hall.

Standing majestically on top of a two-tiered stone platform that is lined with detailed balustrades is Geunjeongjeon Hall, where the king formally granted audiences to his officials, gave declarations of national importance, presided over large official functions, and greeted foreign envoys and ambassadors. Check out the royal throne and a large painting, depicting sun, moon, five peaks, streams and pine trees, which was the crucial signifier of the king. And up in the center of the ceiling, the bright golden dragons in bold relief indicate the presence of the king.

At the back of the throne hall is a group of court offices. Displayed in front of the King's official quarters is sundial, conceived in order to catch the shadow of the sun, which tells time and 24 periods of seasonal change from the winter solstice to the summer solstice.

Sitting on the island in the rectangular lake is Gyeonghoeru. Supported by 48 square and cylindrical massive stone pillars representing the idea of Yin and Yang, this magnificent pavilion was used for many purposes ranging from receptions to national examinations.

Gangnyeongjeon is the king's sleeping and living quarters while Gyotaejeon is the queen's domain containing a number of halls. The noted feature of these main buildings is an absence of a top roof ridge.

Amisan Garden, landscaped with four hexagonal chimneys in orange bricks, is seldom noticed by the hurried visitors. Jagyeongjeon is the queen dowager's residence. Although less colorful, it is worth noting the wall, adorned with floral designs and the chimneys with ten longevity symbols.

Hyangwonjeong features a small pond with a manmade islet that supports a beautiful two-story pavilion. Behind this serene garden is Geoncheonggung, where the king and queen could relax in peace and quiet. It was here that the first electric lights in the country were installed in 1887 after 8 years of Thomas Edison's invention and a tragic chapter in Korea's history was recorded when empress Myeongseong was assassinated by the sword-bearing Japanese assassins in the early morning of 8 October 1895, allegedly under orders from Miura Goro.

Your visit to the National Folk Museum of Korea will familiarize you with wealthy culture of this friendly and picturesque nation. It is an excellent facility to illustrate the history of traditional life of the Korean people from the prehistoric age to the Joseon dynasty. The permanent exhibition features life and work, costumes and ornaments, handicrafts and technology, educations, living quarters, dietary life, oriental medicine, performing arts and games, beliefs and rituals, and socio cultural life.

Insadong, at one time the center of traditional Korean art and antiques, features a mixture of historical and modern atmosphere representing the cultural glimpse of the nation. Clustered along the main street and alleys are lined with street vendors, wooden tea houses, restaurants and numerous galleries and shops dealing in antiques, oriental art supplies, and modern Korean art of all types and styles. Soak in the paintings, upscale artworks, antiques and potteries while you can. Get lucky and you just might meet the artist themselves. It can be plenty of fun walking on the main street, but you venture into the hidden alleys that do spring some unexpected surprises. While here, you may want to buy some souvenirs or simply wander and browse at leisure admiring cultural ambience.

Drive past Cheonggyecheon Stream. After the Korean War (1950-1953), more people migrated into Seoul to make their living and settled down along the stream in shabby makeshift houses. The accompanying trash and waste, and deteriorating conditions resulted in an eyesore for the city. The stream was covered with layers of concrete in the mid 1950s and roadway until the massive urban renewal project freed it in 2005. Today, a 5.8km creek tumbles gently through downtown Seoul, providing a much needed source of peace and relaxation for the citizens of this fast-paced city. You may have a chance to view the sculpture standing tall at the head of the stream on a small plaza. Created by Dutch artist Coosje Van Bruggen and Swedish artist Claes Oldenburg, a shell rising upward like pagoda symbolizes new life.

You will tour the centuries-old Namdaemun Market brimming with well over 11,000 shops selling anything you can imagine. One of the most colorful aspects of the market is an endless sprawl of street-vendor stalls that setup in the alleys and walkways between the buildings. The market is seriously crowded, so be prepared to get bumped around. A fantastic place to haggle over the price to get the best deal on something you want or simply admire the vibrancy of this massive market.

At the western entrance of the market in the middle of a traffic circle stands Sungnyemun. It is a formidable and iconic construct that served as the southern gate of the wall that surrounded Seoul during the period of the Joseon Dynasty.

Day 3 Seoul - Paldang - Gapyeong - Chuncheon (B) 110km
The word of this morning is cycling. The trails are not for professional races or intense competition. More suited for relaxed biking than racing. The bike paths are relatively flat, which rarely or never enter car roads. Paths are paved and generally well maintained, and suitable for most people who have basic biking skills. Some small hills may be present. Overall 70km biking tour, from Paldang station to Chuncheon, is a great way to enjoy the fresh air and outdoors. As you make your way, past by Ungilsan station, where a three-way junciton directs cyclists to the north, the south, or in reverse to Seoul. Gapyeong is a beautiful town set by the mountains, rivers and lakes, while Chuncheon, a city of scenic lakes, boasts one of the most beautiful cities in Korea. While here, check out Soyang dam, whose bank measures123 meters high and 530 meters long, keeping 3 billion cubic meters of water and producing an annual electricity output of 350 million KWs. Chuncheon tour also includes a hustle bustle Mydongdong, a busy downtown street filled with numerous shops and Dakgalbi restaurants. Chuncheon's specialty, Dakgalibi is a stir-frying marinated chunk of chicken in a red pepper paste sauce with sliced cabbage, sweet potato, onion and long, thin rice cake on a hot plate. The sizzling sound and spicy aroma stimulate your appetite.

Day 4 Chunchon - Inje - Hwajinpo - Geojin - Seoraksan (B) 200km
Rrafting on the Naerincheon River is planned. The river, screened by chains of high mountains, has some rapids yet still enough for beginners to enjoy. Situated in one of Korea's most pristine valleys, the rapids are novice class, with participants guided down the river by expert raft guides. This is a perfect trip for anyone wanting to see some natural scenery from an incredible vantage point. A road winds over the cliffy mountain pass and the scenery is marvelous.

Then, travel to the most northern tip of the east coast. Less convenient to get to, the route offers much more pleasant countryside scenery and remote tranquility. Unification Observatory was established in 1983 to console pains of division, nostalgia and inscribe unification will. With the entry permit and sign to place in the vehicle window ready, you continue towards the north, driving past lots of tank traps sat on either side of the road, all a strange and eerie reminder of the tensions that exist between the two Koreas and the stark reality of the divided country. The big blocks are designed to topple onto the road and create a road block to prevent an advance of the North's tanks and artillery vehicles into the South. Once there, you will get a glimpse of the much talked about border dividing the two Koreas and see the road and train track stretched side by side ahead across the North Korea, and soldiers patrolling the beach as well as some nearby islands.

Hwajinpo is a charming coastal town located near the military demarcation line and by the scenic lagoon edged by sweetbriers and reeds. Stop at Kim Ilsung villa, not to glorify him but to learn Korea's complicated history. Situated at the foot of a small mountain by the beach, it is where Kim Ilsung and his family spent their summer holidays until 1950. The villa displays photos and documents chronicling his life and modern Korean history. When the Korean War ended in 1953, the border between the Koreas was redrawn, and the Hwajinpo wound up in the South.

Next, explore Geojin where the quaint charm of this coastal town captivates every visitor. As you stroll down the quayside, you will take in the view of boats sailing in and off, drying fishes in the sun, fishermen tending their nets and, on the sleepy roadsides off the dock, elderly women selling fishes - a delightful treat to a rural lifestyle.

Seoraksan national park is a place that you can definitely find lots of outdoor activities to make it worth while for an extended stay. Rugged peaks, fantastic cliffs, numerous waterfalls, unique rock formations, and scenic valleys altogether make this park and surrounding area some of the most beautiful sceneries on the Korean peninsula, and give this area an unparalleled popularity around the year.

Day 5 Seoraksan (B)
The word of the day is hiking of varying lengths and difficulty. Only a small walk from the park entrance, you will marvel at a large bronze statues, Unification Buddha, symbolizing Korean people's hope for reunification of the country. A little further on is Sinheungsa temple where Cheonbuldong valley and Ulsanbawi trails begin.

Cheonbuldong valley Trail
It is the most impressive valley in the park, leading to Biseondae, Yangpok waterfalls and finally the peak of Seoraksan (1,708m). One hears many legends of the heavenly nymphs who come down to play at Biseondae while taking a bathe in the placid pools of the valleys that are hidden from the human eyes. Near Biseondae rises Janggunbong majestically and among the crags of it is Geumgang cave with a tiny temple inside. You will head up a very steep incline for 600m from the gentle slope of the trail, and you can scale only by carefully ascending the long, steep, metal stairs bolted onto the sheer cliff face. The hike, although hard, comes with a stunning view of numerous cliffy peaks and mountain valley. From Biseondae, another 3.5km to Yangpok Falls, so spacious yet everywhere you looked you are surrounded by giant mountain peaks.

Ulsanbawi Trail
About an hour and half into the walk from the park entrance is Gyejoam hermitage. Located at the base of Ulsanbawi, and the point at which the trail takes a sharp rise upwards. In front of the hermitage on a spacious stone slab is a huge spherical rock called Heundeulbawi. This rock is so perfectly balanced that it can be shaken with some effort, but nobody gets further than waggling it. Your adventure begins by climbing a massive steep staircase that winds its way up the side of the cliff that angle up Ulsanbawi, a 2.8km-long ridge of naked, gray stone peaks jutting 873m into the sky.

Biryong waterfall Trail
The trail is relatively easy for anyone to enjoy and you will view Biryeong waterfalls at the trail end. About 400m further above the falls, you will be amazed at Towangseong waterfalls cascading down a 320-meter cliff.

Cable Car
There is a cable car that picks you up at the valley floor to the Gwongeumseong. The peak is surrounded by cavernous drop-off cliffs, cloaked in more towering rocky summits. Definitely, you stand in awe on the top: sweeping panoramic views of the park around you, the Pacific Ocean, and the small beachside town of Sokcho. Be careful as always as there is not much room to move about and people constantly going up and down and moving around.

Among the recommendable trails from Sogongwon or park entrance (230m above sea level) are as follow and the given times are based on round trip starting and ending at Sogongwon in a relaxed pace.
1. Biryong Falls (310m) + Towangseong Falls observatory (5.6km): 3 hours 30 minutes - Moderate and Strenuous
2. Biseondae (334m) (6km): 2 hours 30 minutes - Moderate
3. Biseondae + Geumgang cave (495m) (7.2km): 4 hours - Moderate and Strenuous
4. Biseondae + Yangpok (715m) (13.2km): 7 hours - Moderate
5. Heundeulbawi (510m) (6.6km): 3 hours - Moderate
6. Heundeulbawi + Ulsanbawi (873m) (7.6km): 5 hours 30 minutes - Moderate and Strenuous
7. Gwongeumseong (800m) Cable car (3.4km): 1 hour (roughly four minutes each up and down) - Moderate

Sokcho has so much more to offer than just mountains. Daepohang becomes a great attraction when this small alley lit up. You will see a wide variety of fresh seafood harvested from the nearby sea and a number of small restaurants serving sliced raw fish. You will find something to enjoy, from simply feeling the ambiance of this small fishing port to taking picture. And in downtown, there is a colorful market selling fishes, fruits, vegetables, grains and daily necessities, and a little further down is a North Korean refugee village that can be accessible by a hand-pulled boat.

Day 6 Seoraksan - Gangneung - Jeongdongjin - Dosan - Andong (B) 290km
Depart Seoraksan early this morning to arrive in Andong, a stronghold of Confucianism. Drive past the salvaged North Korean submarine that is on display together with retired Korean navy ship. The three armed guerillas infiltrated into the land on September 15, 1996, to spy on the naval installations in the area while the others were on standby in the submarine. However, it ran aground on September 18. The crew eventually abandoned any attempt to find their way back to the North and split up in several groups. But, one was soon spotted by a civilian who became suspicious and alarmed the authorities. Counterespionage operation was in progress for 49 days and of the 26 North Korean infiltrators, 1 was captured alive, 13 spies were shot, 11 were murdered by their colleagues and 1 reportedly escaped back to North Korea.

After a short break at Jeongdongjin, a tiny village located by the ocean with a quaint railway station of being the closest to the ocean anywhere in the world, explore Hwanseongul Cave. About 30 minute grueling uphill hike from the ticket office or a 6 minute on a mono rail gets you to a cave entrance of overwhelming size in the middle of the mountain. The cave itself is super massive and it would take well over one hour to explore. Be prepared for wet walkways, maneuvered up a narrow corridor with a rapidly flowing creek below it and hung off the side of the cave's walls above the creek. Many waterfalls are actively eroding the floor. Only 1.6km open to the public; yet that section alone will provide unforgettable memories. Cave tour is absolutely at your choice. You could opt out by staying outside, or simply relax.

Tour includes Dosan Seowon, a Confucian-shrine academy which was established in 1574 in memory of Yi Hwang (1501-1570) who introduced Neo-Confucianism into Korea. The facility is composed of 16 buildings most of which were built in a simple and concise style. About hundreds of Seowon were functioning by the early 1800s, but then most of them were destroyed around 1870 by the court order. Dosan Seowon is among some of the few survived academies. Although the educational function of the facility has long since ceased, but you can feel Confucian ideology and value that has deeply influenced the lives of Koreans in all aspects.

Time works out, visit Jebiwon Buddha or Ichon-dong Stone Buddha is an awe-inspiring Buddha statue stands guard over the northern entrance way to Andong for nearly 1000 years. It's a relief-carving of the body on a sheer boulder-side, under a 3D-carved head made from a natural stone found on top of that cliff.

Day 7 Andong - Songnisan (B) 140km
You will explore UNESCO World Heritage Site, Hahoemaeul from the 15th century. It is the best preserved traditional village portraying and spanning the life of the Joseon Dynasty (1392-1910) and some 480 Korean traditional houses, both large and small, are still fully functioning. As you take a walk in the narrow alleys, enjoy the rustic and old charm of this unique village. You cannot possibly miss a 600-years old zelkova tree, the home to the village spirit. At the tree's base is where residents still make their wishes. The village is also known for traditional festival, Hahoe Mask Dance which gave common people the opportunity to mock those in authority, and in particular the Byeolsingut, a shaman ritual exorcising evil spirits, dating back to the Goryeo dynasty (918-1392).

Stop off at a traditional paper-making workshop to get a glimpse into the world of hand-made paper manufacturing - a painstaking process which hasn't changed much from ancient times. Start with bark from the mulberry tree, then separate the bark from the fibers that would eventually be transformed into paper. After straining the pulp, adding some glue, drying the paper, and cutting or coloring according to need, they get a quality paper that is unique to Andong.

Your journey continues to Songnisan national park, weaving through the picturesque countryside. En route, make a short stop at a 600-year-old pine tree shaped like an open umbrella. In recent years several branches were damaged by wind and snow, though what remains is still beautiful. Upon entering Beopjusa dating back to 553, you will certainly stand in awe before the enormous golden Buddha gazing down at the temple and a five-story wooden pagoda, the only one left in Korea. Check out a giant iron pot whose diameter is 2.7 meters that may well had been used to feed 3,000 priests in the early 12th century. A stone carved lantern supported by twin lions standing face to face is a rare example of the magnificent Silla sculptures. A stone water cistern is considered unique for beauty and design. Two stone pillars once held the temple banner pole. An excellent carved relief called Maaebul and worship halls also can be seen.

You cannot miss Four Buddhist Instrument Ceremony. The sounds of each instrument, Brahma bell, Dharma drum, wooden fish and cloud-shaped gong, have a function in saving beings of other realms. Hearing them reverberating through the universe, you will reflect upon the profound symbolism of the instruments. It is a great vow to save or enlighten the creatures in the universe including those on land, in the sea, in the air and in hell.

Day 8 Songnisan - Asan - Seoul (B) 190km
Morning is planned for hiking with a mix of easy and challenging 6 hour course, Saesimjeong - Jungsajaam - Munjangdae (1,054m) - Sinseondae - Gyeongeopdae - Saesimjeong - parking, taking some 6 hours. The first leg of trekking to Saesimjeong is flat and very easy of 3.4km, thereafter the trail changes abruptly tough, narrow and rocky. There are iron guardrails, and trails are often challenging until you reach Munjangdae, where a huge flat rock magnificently occupies the top, providing a panoramic view of the park. Trekking continues eastward over the ridge for some 2km, you will come across Sinseondae and turn right down into the valley leading to Gyeongeopdae, Saesimjeong, Beopjusa and finally to the parking.

En route stop at Asan for a visit of Oeammaeul, one of the traditional clan villages exuding old and rustic charm. The village entrance is marked by stone bridge, pine forest and totem poles. This village with more than 400 years of history has about 70 traditional houses, and is highlighted by 6km-long stonewall paths ringing the village and the amazing artificial water system that goes through the entire village for gardens and agriculture. As you stroll along the pathway, you will see thatched cottages and tile roof houses representing typical village layout of central Korea and at the same time feel the rural ambience and peaceful atmosphere.

Day 9 Departure (B) 60km
After this wonderful trip exploring Korea and with time to reflect on your surprise in your experience, you will return to the airport in time for your flight. By boarding, you are already high above Incheon heading for home.